Now Playing: Bekah Brunstetter's PUBLIC SERVANT!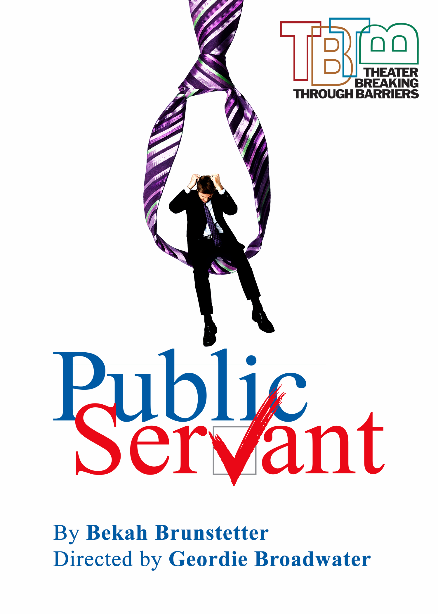 Theater Breaking Through Barriers (Samuel D. Hunter's The Healing) kicks off its 40th Anniversary season with the World Premiere of PUBLIC SERVANT by Bekah Brunstetter (NBC's Emmy-winning drama This Is Us and the just announced Oklahoma TV series). Directed by Geordie Broadwater, the production will star Chris Henry Coffey (Broadway's Bronx Bombers, David Schwimmer's Trust opposite Clive Owen and Viola Davis), Christine Bruno (Jose Rivera's adaption of The Maids, Bekah Brunstetter's Forgotten Corners of Your Dark, Dark Place with TBTB) and newcomer Anna Lentz in her Off-Broadway debut. The play is the second part of a trilogy of plays by Brunstetter that kicked off with The Cake in February at Manhattan Theatre Club. Previews for PUBLIC SERVANT begin May 25 at Theatre Row's Clurman Theatre with opening night on Thursday, June 6. 
In PUBLIC SERVANT, Ed has been newly elected as County Commissioner. Ed is one of the good ones. With his daughter Hannah by his side, he is going to change the world -- or at least his little corner of it. Meanwhile, all world-weary Miriam needs is to sell her late Mother's house. Disillusioned with the system but desperate, she turns to Ed for help with what should be a simple request. But in the world of politics, is anything ever simple?  
PUBLIC SERVANT runs May 25 – June 29 at Theatre Row's Clurman Theatre (410 West 42nd Street, between 9th and 10th Avenues). Performances are Tuesday - Wednesday at 7pm, Thursday - Friday at 8pm, Saturday at 3pm & 8pm, and Sunday at 3pm. Tickets are $58, available at 212-239-6200 or visit www.telecharge.com. For additional information, visit www.tbtb.org.
All Access performances (with special accommodations) will be:
Tue. 6/11 @ 7pm
Fri. 6/14 @ 8pm
Wed. 6/19 @ 7pm
Thur. 6/27 @ 8pm
Sat. 6/29 @ 3pm
Promo Code is TRADOC1!
Here is a link to the Public Servant's trailer with the audio descriptions: Public Servant Trailer with Audio Descriptions.
Public Servant Trailer (2019)