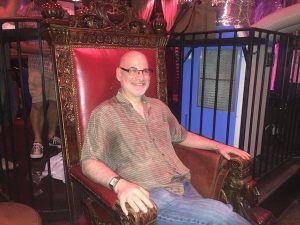 Steve Asher has worked in theatrical management and producing
for over 25 years. He was managing/executive director
for both The LAByrinth Theater company (Artistic
Directors Phillip Seymour Hoffman and John Ortiz) and
The Ridiculous Theatrical Company (Artistic Director
Everett Quinton). He was also the lead producer of the
award-winning Off-Broadway production of The Mystery
of Irma Vepp as well as the critically acclaimed
Pete n' Keely and Boys Don't Wear Lipstick. As Director
of Special events at GMHC, he produced fundraising
events such as Bernadette Peters at Carnegie Hall
(Sondheim , etc.) and Patti LuPone at Carnegie Hall and
Doin' What Comes Naturally. A Tribute to Ethel Merman
starring Bette Midler, Patti LuPone, Elaine Stritch, Madeline
Kahn and Andrea Martin at the Richard Rodgers
theater on Broadway as well as many other high profile
events.