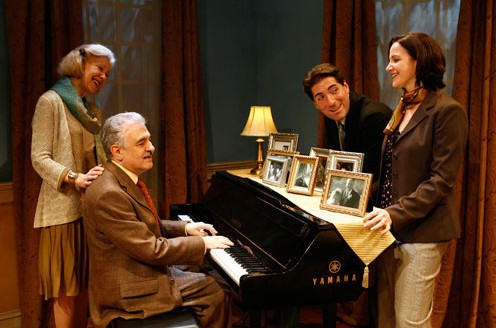 A.R. Gurney's The Cocktail Hour 2008
TBTB, Theater Breaking Through Barriers, is the only Off-Broadway theater, and one of the few professional theaters in the country, dedicated to advancing actors and writers with disabilities and changing the image of people with disabilities from dependence to independence. We are in a great place.
We are here, we have survived over 37 years, we have a dynamite mission which is uniquely ours, and we have acquired what we think is a well deserved reputation for excellence. The New York Times calls us "an extraordinary troupe designed to defy expectations, the New York Post says we are "quite simply one of the most enjoyable companies in the country" and The Village Voice touts us as "long purveyors of quality drama."
We have always been and will always be an integrated company. We started as Theater By The Blind, integrating able-bodied, low vision and blind actors and writers. In 2008 we expanded our mission to include artists with all physical disabilities. We believe that through artistic excellence and the development of role models we can make our claim at last for full inclusion of people with disabilities in our society.
The time for our strongest growth and influence is now. It has been 26 years since the passing of the Americans With Disabilities Act. 56,000,000 of us, nearly 20% are dealing with a disability. But nothing like this is visible in the media. Only 2% of characters on TV exhibit a disability and only 0.5% are allowed to speak. Hollywood is required to track casting based on age, gender and race, but categorically refuses to track disability. We must change this and gain for actors and writers with disabilities the same acceptance that has been achieved by artists of color.
The wonderful disabled playwright John Belluso said disability is the minority no one wants to join and anyone can fall into at any time. There is much fear of disability, increased because it isn't seen, isn't shown as a natural part of life. Yet 80% of us will deal with it at some point in our lives. We have a mission to decrease this fear by showing the exuberance and independence as well as the challenges of lives lived with disability. The potential in this mission is the source of great power for us, power for change and inclusion.